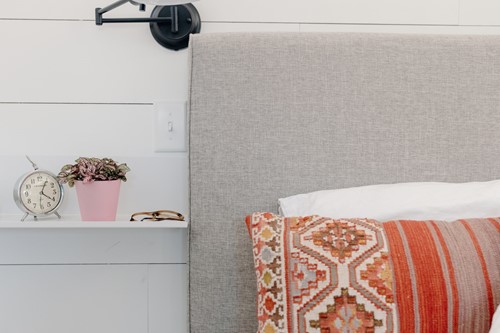 Boho Chic began as a fashion movement influenced by the free-flowing lifestyle of the 1960s, but it has transformed from a clothing style into a home decor theme. If you have created a natural-inspired space that includes funky pops of color and interesting accents, then you may be interested in creating some DIY home decor projects that coordinate with the look of your home.
These are some of the best Boho Chic DIY home decor projects to try:
Birch Wood Candleholder
With its white and earthy bark, birch wood is a popular design element in the Boho Chic movement. You can create your own birch wood decor pieces by slicing the wood into a small, thin piece. Then use a drill to create holes that would fit several tea light candles. When you are done, you can put your new birch wood candleholder on an end table or as a centerpiece in the dining room and light the candles to create a romantic ambiance.
Decoupage Accent Tray
Accent trays are both beautiful and functional, as they give you extra space to store your daily necessities or more room to add decor to your room. You can create a Boho Chic accent tray by using scraps of patterned paper and decoupaging them onto an old wooden or metal tray. Your newly customized work of art is sure to become the next conversation piece in your room.
Scrap Fabric Garland
A Boho Chic garland can be strung on your mantle or along a wall in order to create a back drop, and it's easy to make this accent decor yourself. To make scrap fabric garland, you will need to collect extra strips of fabric in various colors and patterns. Knot the fabric along a rope so that it hangs down. Once you have achieved the look that you want, you can hang it in your Bohemian-influenced home.
Pom Pom Accent Chair
It's never been easier to design your own comfortable yet funky accent chair. Simply paint an old wooden chair to match the color scheme of the room. Then, adhere large, lush pom pom balls onto the seat of the chair. The end result is a groovy chair that fits into any Boho Chic home.
DIY Scalloped Throw Pillow
Scalloped designs are big in any Boho Chic interior design scheme, but you don't have to spend a fortune on a pre-made scalloped throw pillow. You can easily create one yourself by gluing scalloped-shaped pieces of felt onto an existing pillow. You will love your fish-scale style creation and it will stand out in your room.
Branch Mobile Wall Art
Another way to incorporate nature into the design of your room is to build your own branch mobile wall art. If you find a long and sturdy branch in your yard, you can use twine to hang other natural elements from it in order to create a mobile. Feathers, seashells, beads and more can be used to make a beautiful branch mobile.
If you are the type of person who likes to blend outdoor elements with modern interior decor, then Boho Chic is the style for you. These DIY projects are easy to create and ideal for anyone of any skill level, and they are sure to bring a touch of wonder and whimsy into your home.